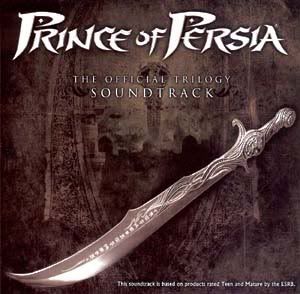 Abarca la música del "Sands of Time", "Warrior Within" y "Two Thrones"

Tracklist:
o1. The Sands Of Time
o2. Welcome To Persia
o3. A Princess Is Captured
o4. The Sands Are Released
o5. Trouble In The Barracks
o6. Farah
o7. The Library
o8. Time Only Knows
o9. Warrior Within - 01
10. Warrior Within - 02
11. Warrior Within - 03
12. Warrior in Despair
13. Warrior and the Daharka
14. The Daharkas Demise
15. Kaleena Free From Fate
16. The Two Thrones-Ch-01
17. The Two Thrones-Ch-02
18. The Two Thrones-Ch-03
19. The Two Thrones-Ch-04
Bájenlo o vendrá por ustedes el Dahaka .o.
Chachachá lo tengo preparado (8) tengo las maletas (8) Vámos juntos hasta Italia quiero comprarme un jersey a rayas (8) pásaremos de la mafia nos bañaremos en la playa (8) apoco no están chidos los Hombres G ? bueno... sólo su primer disco, lo demás es pura caca...
=O OST de uno de mis juegos favoritos. Lector, que si no lo has jugado estas bien pendejo porque en vez de estar ahí de ocioso rascándote las patas deberías jugarte cualquiera de éstos xD
El Prince sin nombre es todo un pimp, en cada juego se tira a una vieja ;D
Ya saben... si no quieren toparse al Dahaka que no se baña.
.
.
Miss Kuroneko's gonna die! *explodes*
Tengo una pila de libros bien totémica =O lo triste es que son de materias feas... que tengo que estudiar ¬¬''